Allows all cats and dogs to thrive on a natural raw food diet
A high specification supplement for raw food diets, designed to provide 27 essential daily vitamins and minerals.
*100% No-Risk Customer Satisfaction Guarantee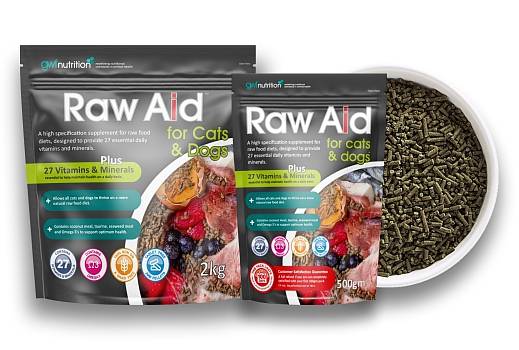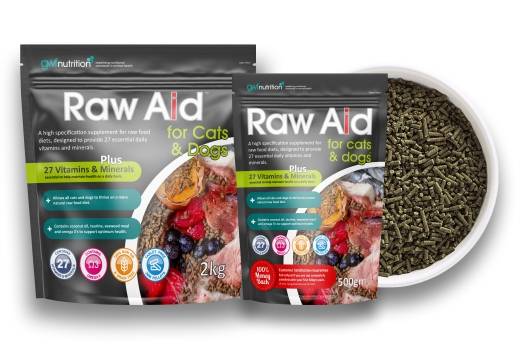 Allows all cats and dogs to thrive on a natural raw food diet.
A high specification supplement for raw food diets, designed to provide 27 essential daily vitamins and minerals.
Standard 2-3 working day UK mainland delivery included.
Priority delivery available.

Surcharge for Scottish Highlands may apply.
What are the Benefits of Feeding Raw Aid for Cats & Dogs?
Provides 27 vitamins and minerals, essential to help maintain health on a daily basis.
Allows all cats and dogs to thrive on a natural raw food diet.
Contains coconut meal, taurine, seaweed meal and Omega 3 to support optimum health and performance.

Contains choline to support cognitive health.

100% grain free

A 100% non-GM, soya free formulation.
Suitable for an 80-10-10 raw diet (meat, offal & bone).
Manufactured to Universal Feed Assurance Scheme (UFAS) standards as palatable, easy-to-feed 2mm pellets.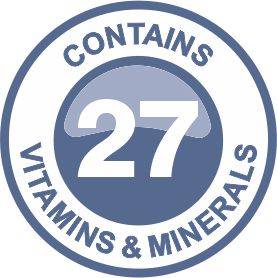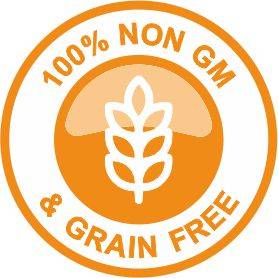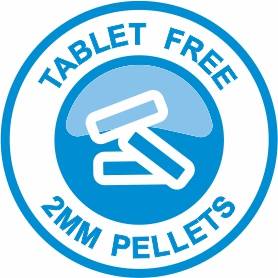 When Should I feed Raw Aid to My Cat or Dog?
Raw Aid can be fed to any cat or dog on a raw food diet to provide essential daily vitamins and minerals. Raw Aid is suitable for pregnant and lactating females as well as puppies and kittens from weaning*.
*100% No-Risk Custom

e

r Satisfaction Guarantee
This product is offered within the UK with a full Money Back Satisfaction Guarantee (500gm packs only). Simply follow the feeding recommendation and if you are not completely satisfied, we will refund the purchase cost, minus any postage costs (if applicable).
For full terms and conditions, please visit: Terms and Conditions.
Explained - Nutraceuticals
Explained - The 27 Active Nutraceuticals in Raw Aid for Cats & Dogs
Nutraceuticals are products derived from food sources with extra health benefits in addition to their basic nutritional value.
Betaine: 260mg
Helps preserve the availability of essential amino acids methionine and choline for use within the body.
Biotin: 50mcg
Essential for the integrity of claws and coat, as well as the maintenance of normal blood glucose levels and condition.
Calcium: 170mg
Essential as a major constituent of bones and required for muscle contractions (all movement), cell membrane function and enzyme regulation.
Carnitine: 10mg
Improves mitochondrial efficiency and reduces free radicals. Supports heart muscle function, encourages lean body mass and supports joint health.
Choline: 90mg
Essential for all cell membranes and neural function, necessary to support cognitive health in dogs and cats.
Copper: 2mg
Essential for improving blood flow and for the production of collagen, which provides the framework for muscles, organs and connective tissues.
Folic Acid (Vit B9): 250mcg
Helps produce healthy blood cells and used by the body to manufacture DNA.
Iodine: 250mcg
Essential for the production of thyroid hormones. A deficiency of these can cause lethargy, poor performance, a dry scaly coat and infertility.
Iron: 8.5mg
Essential for the transport and storage of oxygen around the body. It is also needed for growth, healing and immunity.
Magnesium: 24mg
Essential for the nervous system and for normal growth and development.
Manganese (inc. Chelate): 4.5mg
Essential for the production of chondroitin sulphate to aid healthy movement and the utilisation of fats and carbohydrates for energy.
Omega 3 Fatty Acids: 500mg
An important anti-inflammatory and essential for healthy skin and high quality fur production.
Pantothenic Acid (Vit B5): 3mg
Essential in order for the body to synthesise coenzyme A, which is essential for fatty acid metabolism.
Phosphorus: 60mg
Essential for growth, bone & teeth development, and supports urinary tract health.
Potassium: 110mg
Aids fat & carbohydrate metabolism, nerve and muscle control.
Salt: Chloride & Sodium: 185mg
An important electrolyte which regulates bodily fluids across cells and essential for movement of nerve impulses across the body.
Selenium (inc. Chelate): 50mcg
An important antioxidant that works synergistically with vitamin E.
Taurine: 100mg
Supports heart muscle function, improves insulin sensitivity, maintains retina health and optimises bile make-up. An essential part of the cat's diet.
Vitamin A: 500iu
Essential for healthy eyesight, a strong bone structure, good fertility and an active immune system.
Vitamin B1 (Thiamine): 1mg
Supports neural pathways, appetite & muscle strength.
Vitamin B2 (Riboflavin): 1mg
Supports appetite, growth and healthy skin.
Vitamin B6: 0.5mg
Supports protein metabolism, growth and cognitive function.
Vitamin B12: 30mcg
Essential for the utilisation of amino acids; involved in the production of red blood cells and the integrity of the nervous system.
Vitamin D3: 300iu
Crucial for bone development. Also important for the immune system, fertility and the release of insulin.
Vitamin E (Alpha-Tocopherol): 24mg
A biological antioxidant and essential for healthy reproductive, muscular, circulatory, nervous and immune systems. Has anti-ageing properties.
Vitamin K: 13mcg
Supports optimal liver function and important for the blood clotting process.
Zinc (inc. Chelate): 30mg
Essential for insulin production, blood clotting, healing and claw health. Supports wound healing and the immune system.
Daily Feeding Recommendation
Simply mix with your cat or dog's raw feed diet.
Raw Aid can be fed to all cats and dogs regardless of age, size or level of exercise.
For continued support, Raw Aid is recommended to be fed on a daily basis.
Very digestible 2mm pellets.
Please store in a cool, dry area away from direct sunlight.
1 Measure (Included) = 10gm.
| | |
| --- | --- |
| Size of Dog | Maintenance Level |
| | |
| | |
| --- | --- |
| Size of Cat | Maintenance Level |
| | |
Additional Product Information
Product Information & Analysis
WH030423-1020
Form & Pack Size(s)
Manufactured as:
Very Digestible 2mm Pellets
Available in:
500gm Minimum Waste Pouch​es

2kg Minimum Waste Pouch​es
Analytical Constituents
16.5% Crude Protein

9% Crude Fat

16% Crude Fibre

13.5% Crude Ash

4% Starch

5% Sugar

1.7% Calcium

1.1% Potassium

0.6% Sodium

0.6% Phosphorus

0.2% Magnesium

5.2% Omega 3 Fatty Acids
Composition
Micronized (Sugar) Beet Pulp

Hemp Seed Meal

Grass Seed Meal

Copra Meal

Sunflower & Linseed Oil

Cane (Sugar) Molasses

Sodium Chloride

Calcium Carbonate

Monocalcium Phosphate

Calcium Sulphate Anhydrous (Pellet Binder)

0.3% Seaweed Meal
Nutritional Additives
Trace Elements (/kg):
2990mg Zinc (3b609 Zinc Chloride Hydroxide Monohydrate & 3b603 Zinc Oxide)

850mg Iron (3b103 Iron (II) Sulphate Monohydrate)

450mg Manganese (3b507 Dimanganous Chloride Trihydroxide & 3b502 Manganese (II) Oxide)

200mg Copper (3b405 Copper (II) Sulphate Pentahydrate)

25mg Iodine (3b202 Calcium Iodate Anhydrous)

5mg Selenium (3b815 L-Selenomethionine & 3b801 Sodium Selenite)
Vitamins (/kg):
50000iu Vitamin A (3a672a Retinyl Acetate)

30000iu Vitamin D3 (3a671)

2410mg Vitamin E (3a700 Alpha Tocopherol)

9000mg Choline (3a890)

300mg Calcium D-Pantothenate (3a841)

260mg Betaine (3a925)

100mg Vitamin B1 (3a820)

100mg Vitamin B2 (3a826)

50mg Vitamin A precursor (3a160(a) Beta-Carotene)

50mg Vitamin B6 (3a831)

25mg Folic Acid (3a316)

5mg Biotin (3a880)

3mg Vitamin B12 (Cyanocobalamin)

1.3mg Vitamin K3 (3a710)
Sensory Additives
Flavour Enhancers (/kg):
10g Taurine (3a370)

1000mg Carnitine (3a910)
Technological Additives
Binders & Anti-Caking Agents (/kg):
Quality Assurance / Storage Advice & Additional Information
This product is manufactured to Universal Feed Assurance Scheme (UFAS) standard.
This product should be stored in a cool, dry area away from direct sunlight.

Download

product Images.​
Associated Knowledge Base Articles
For more detailed information relating to the benefits of this product, please refer to the following Knowledge Base articles:
Need More Information?
For all general enquiries, technical and feeding support, please telephone: +44 (0)1225 708482 or email: info@gwfnutrition.com. For a look at the pros and cons of raw feeding for dogs take a look at our blog article Is a Raw Food Diet Good for Dogs?
Reviews for Raw Aid for Cats & Dogs