Compliments about appearance
Dodger came to me in May 2008 through the British Manchester Terrier club re-homing scheme. Unfortunately, his previous owners were experiencing relationship difficulties and it was felt that they could no longer keep Dodger. He had undergone a York allergy test which had diagnosed severe reactions to beef and mild reactions to chicken, lamb and turkey. This meant that his food needed to be controlled to ensure that his symptoms did not reoccur.
I had been using Joint Aid for over a year with my crossbreed agility dog, Meg and I had been very pleased with this product and so I decided to give Condition Aid a try. Within 2 weeks both dogs seemed more energetic and Dodger's digestion seemed to settle.
We have now been using Condition Aid for 3 months and I am frequently given compliments about both of my dogs' shiny coats and general appearance. He is now able to eat a wider variety of foods (which is useful as Manchester Terriers have a tendency to devour any food which is left within their reach)
Although Dodger came to me with the idea of beginning agility, I have also entered him in breed shows. Up until now he has won numerous first places in both open and championship shows including 6 Best of Breeds and even some placings in the Terrier group. Our finest achievement so far has to be winning the Post Graduate class at Crufts this year.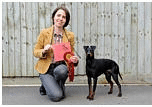 This post has been moderated in line with VMD guidelines.