Request Your Free
Joint Aid for Dogs Sample*
The proven dog joint supplement with

glucosamine for all dogs
A high specification joint care supplement designed to support active and ageing joints. With Muscle Maintenance to aid mobility.
*£1 Postage and Packaging.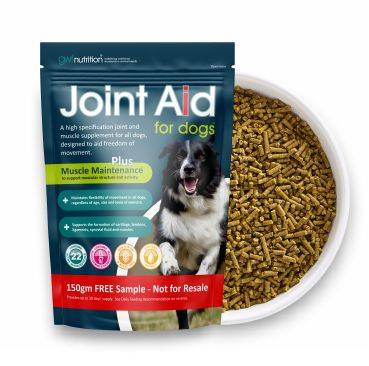 ---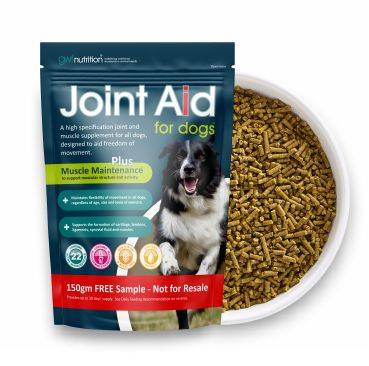 Request Your Free
Joint Aid for Dogs Sample*
The proven dog joint supplement with

glucosamine for all dogs
A high specification joint care supplement designed to support active and ageing joints. With Muscle Maintenance to aid mobility.
*£1 Postage and Packaging.
---
Just £1 Postage and Packaging.

Please allow up to 2 weeks for delivery.
Request your 2 week sample of Joint Aid for Dogs for just £1 postage and packaging. Joint Aid for Dogs offers proven joint support for all dogs regardless of age, size or activity levels, with added Muscle Maintenance to aid mobility.
If you're impressed, we'll happily put you in touch with one of our stockists. Please note that this offer is open to new Joint Aid customers only and we can only send one sample per customer/household. We reserve the right to refund postage costs for duplicate purchases.
What are the Benefits of Feeding Joint Aid for Dogs?
HELPS MAINTAIN MOBILITY AND EASE OF MOVEMENT – Curcumin and high levels of Omega 3 support the

natural anti-inflammatory actions of the body.

SUPPORTS ACTIVE AND AGEING JOINTS - Glucosamine and Hyaluronic Acid support joint structure. MSM, Manganese and Collagen Matrix support the formation of

cartilage, tendons and ligaments.

SUPPORTS MUSCLE GROWTH AND RECOVERY – targeted Amino Acids aid the production of muscle tissue. Selenium, Manganese and Magnesium support resilience and replenishment.

HIGHLY DIGESTIBLE WHEAT FREE FORMULATION – our lipid delivery system Oatinol™ means a superior uptake of nutraceuticals into the gut and supports good digestive health. No loading period needed.

GIVE DAILY FOR OPTIMUM RESULTS – easy to feed micropellets can be sprinkled over food or given separately. Recommended amount: 2.5g-20g per day depending on weight.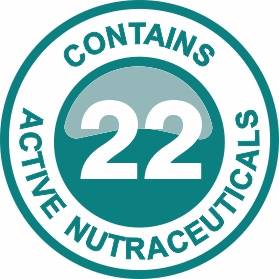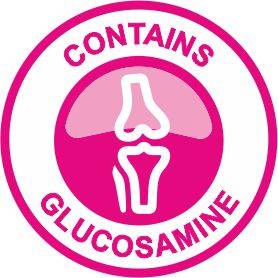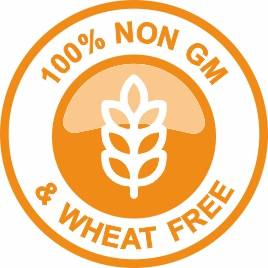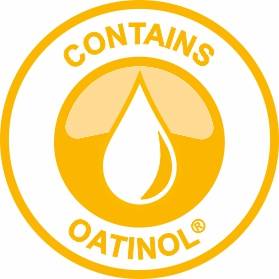 ---
Reviews for Joint Aid for Dogs
Product Information & Analysis
Form & Pack Size(s)
Manufactured as:
Very Digestible 2mm Pellets
Available in:
3kg Minimum Waste Pouch​es
Analytical Constituents
16% Crude Protein
8% Crude Fat
14% Crude Fibre
4% Crude Ash
20% Starch
3% Sugar
0.3% Calcium
0.4% Phosphorus
0.1% Sodium
Composition
Black Oats
Hemp Seed Meal
Micronized (Sugar) Beet Pulp
Cane (Sugar) Molasses
7.5% Oligosaccharides
4% Vegetable Oils & Fats (Oatinol)
Seaweed Meal
0.5% MSM (Methylsulfonylmethane)
0.5% Collagen Matrix
Nutritional Additives
Vitamins (kg)
25000mcg Biotin (3a880)
1000mg Vitamin C (3a300 Ascorbic Acid)
Trace Elements (/kg)
50mg Copper (Copper (II) Sulphate Pentahydrate 3b405 & 3b409 Dicopper Chloride Trihydroxide)
50mg Manganese (Manganese (II) Oxide 3b502 & 3b507 Dimanganous Chloride Trihydroxide)
300mg Zinc (Zinc Oxide 3b603 & 3b609 Zinc Chloride Hydroxide Monohydrate)
Zootechnical Additives
Gut Flora Stabilisers (/kg)
4e10 CFU/kg (Actisaf Sc47) Saccharomyces Cerevisiae NCYC Sc47, (EC 4b1702)
Quality Assurance / Storage Advice & Additional Information
This product is manufactured to Universal Feed Assurance Scheme (UFAS) standard.
This product should be stored in a cool, dry area away from direct sunlight.

Download

product Images.​
Associated Knowledge Base Articles
For more detailed information relating to the benefits of this product, please refer to the following Knowledge Base articles:
The Oatinol Delivery System
Need More Information?
For all general enquiries, technical and feeding support, please telephone: +44 (0)1225 708482 or email: info@gwfnutrition.com
"We use Joint Aid for Dogs because you won't find a dog joint supplement that even comes close to it. I want @khaleesithedobe to be running all the way into old age and she needs healthy joints for that. Oatinol is a game changer."
@thepetnutritionist
"Started one of my labs with juvenile arthritis onto joint aid & muscle management. I honestly cannot believe the difference. She is jumping freely. Playing like a pup. No stiffness or lameness. Thank you. Thank you. Thank you"
Sara Wadey
"Fantastic stuff, currently use it on my 3 year 6 month old purebred KC registered black and white English springer spaniel. We do agility, canicross, bike jor and hoping to do some Munro bagging ...this joint supplement has helped him with a small tear in his cruciate ligament, even my Orthopaedic specialist vet is impressed with how this joint supplement has helped him."
Belinda Mcleod