With selenium, vitamin E, prebiotics and Omega 3's to support a healthy immune system.
A highly palatable, soya free complete diet for all laying hens, designed to support general wellbeing and healthy egg production.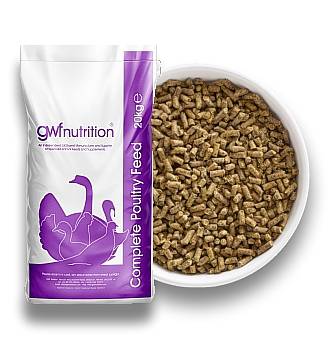 ---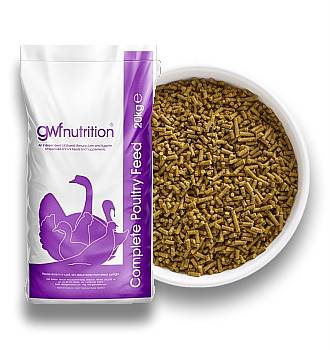 With selenium, vitamin E, prebiotics and Omega 3's to support a healthy immune system.
A highly palatable, soya free complete diet for all laying hens, designed to support general wellbeing and healthy egg production.
---
Standard 1-3 working day UK mainland delivery £6.36 + VAT.

Surcharge for Scottish Highlands, Islands & NI.
Please contact us to discuss pricing for half and full pallet orders. Mix and match from our Alpaca, Horse and Pig & Poultry ranges.
What are the Benefits of Feeding Non-GM Layers Pellets?
Provides a nutritionally balanced, quality protein diet for all laying adult hens.
16% crude protein.
Formulated with selenium, vitamin E and hemp derived Omega 3's to support a healthy immune system.
Contains natural wormer diatomaceous earth and prebiotics to support digestive health and maximise high nutrient uptake.
Provides a balanced supply of amino acids and calcium to support egg shell formation.
With beta carotene, maize gluten meal and oregano for a vibrant yolk colour and tasty eggs.
Palatable 3mm micropellets flavoured with aniseed and oregano.
With betaine to help fight heat stress in birds.
A 100% non-GM, soya free formulation.
Manufactured to Universal Feed Assurance Scheme (UFAS) standards.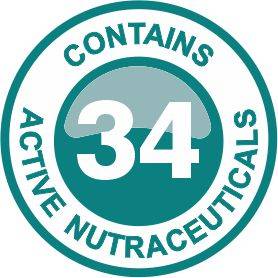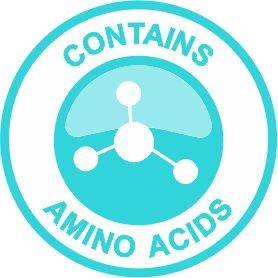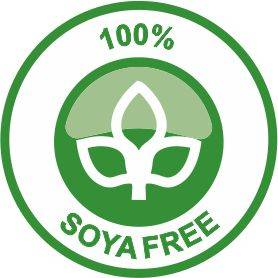 Explained - Nutraceuticals
Explained - The 34 Active Nutraceuticals in Non-GM Layers Pellets
Nutraceuticals are products derived from food sources with extra health benefits in addition to their basic nutritional value.
Betaine
Helps reduce heat stress and dehydration, particularly important for housed birds, as well as preserving the availability of amino acids.
Beta Carotene (Vitamin A precursor)
A safe and effective way to provide the building blocks for vitamin A, which is vital for vision, appetite and growth.
Biotin
Important for beak and claw integrity as well as plumage and skin condition.
Calcium
Essential as a major constituent of bones and eggshell and required for muscle contractions (all movement), cell membrane function and enzyme regulation.
Choline
Essential for all cell membranes and neural function, necessary to support cognitive health and aid in the prevention of fatty liver syndrome. Also important to prevent Perosis (displacement of the Achilles' tendon), a common issue found in poultry.
Copper
Essential for improving blood flow and for the production of collagen, which provides the framework for muscles, organs and connective tissues. Prolonged copper deficiency can lead to reduced egg production, hatchability and abnormal eggs.
Diatomaceous Earth
A natural wormer, effective for helping to eliminating worms in the digestive system.
Folic Acid (Vitamin B9)
Helps produce healthy blood cells and used by the body to manufacture DNA. A deficiency can result in decreased egg production, poor plumage and Perosis.
Iodine
Essential for the production of thyroid hormones; important for healthy feathering
Iron
Essential for the transport and storage of oxygen around the body. It is also needed for growth, healing and immunity.
Lysine
A vital amino acid for poultry and layers, critical for the growth of body tissues and essential for the development of nutritious eggs.
Magnesium
Essential for the nervous system and for normal growth and development.
Manganese
Essential to maintaining the growth of tendons and ligaments, the formation of cartilage and the elasticity of connective tissue.
Methionine (Maize Gluten derived)
An essential amino acid crucial for egg size, weight and composition.
Niacin (Vitamin B3)
Important for carbohydrate, fat and protein metabolism, cell respiration and DNA repair. Deficiency can result in dermatitis and poor feathering on feet and head, reduced laying and brooding.
Oligosaccharides (Fructo & Mannan)
Oligosaccharides from yeast cell wall that help support natural expulsion of antagonists in the digestive tract and maintain a high level of natural immunity.
Omega 3 Fatty Acids
An important anti-inflammatory for general health and wellbeing including cholesterol metabolism, nerve transmission and the immune system. Essential for healthy skin and high quality plumage.
Pantothenic Acid (Vitamin B5)
Essential in order for the body to synthesise coenzyme A, which is essential for fatty acid metabolism. Important for feed conversion.
Phosphorous
Essential for growth, bone & teeth development as well as egg production, quality, size and shell integrity. Supports urinary tract health.
Phytase Enzyme
Increases the bio-availablility of phosphorous to the bird. Phosphorous typcially has a low absorption rate.
Potassium
Aids fat & carbohydrate metabolism, nerve and muscle control. Vital for the movement of nutrients into a cell.
Salt (Sodium & Chloride)
An important electrolyte which regulates bodily fluids across cells and essential for movement of nerve impulses across the body. Vital for the movement of nutrients into a cell.
Selenium (Inc. Bonded)
An important antioxidant that works synergistically with vitamin E.
Starch
The main energy source in the poultry diet.
Tryptophan
An essential amino acid vital for the body's proteins, enzymes, muscles and neurotransmitters. Helps to regulate appetite, sleep, mood and pain.
Vitamin A (Retinyl Acetate)
Essential for healthy eyesight, a strong bone structure, good fertility and an active immune system.
Vitamin B1 (Thiamine)
Supports neural pathways, appetite & muscle strength.
Vitamin B2 (Riboflavin)
Supports appetite, growth and healthy skin.
Vitamin B6
Supports protein metabolism, growth and cognitive function.
Vitamin B12
Essential for the utilisation of amino acids; involved in the production of red blood cells and the integrity of the nervous system.
Vitamin D3
Crucial for bone development. Also important for the immune system, fertility and the release of insulin. Works synergistically in particular with calcium to ensure good shell strength, egg quality and layability.
Vitamin E (Alpha-Tocopherol)
A biological antioxidant and essential for healthy reproductive, muscular, circulatory, nervous and immune systems.
Vitamin K
Supports optimal liver function and important for the blood clotting process.
Zinc
Essential for insulin production, blood clotting, healing and claw and beak health. Supports wound healing and the immune system. Sufficient levels of zinc are crucial for maintaining comb colour and prevent feathers from fraying.
Daily Feeding Recommendation
Additional Product Information
Product Information & Analysis
Form & Pack Size(s) WH151222-1170
Manufactured as:
Very Digestible 3mm Pellets
Available in:
Analytical Constituents
16.5% Crude Protein
4.5% Crude Fat
5% Crude Fibre
12% Crude Ash
3.5% Calcium
0.8% Phosphorus
0.2% Sodium
0.2% Magnesium
0.9% Omega 3 Fatty Acids
Composition
Wheat
Wheatfeed
Maize Gluten (Prairie) Meal (Non-GM)
Calcium Carbonate
Hemp Seed Meal
Cane (Sugar) Molasses
Dicalcium Phosphate
Sunflower Oil
0.5% Oligosaccharides (Fructo & Mannan)
Calcium Sulphate (11.1.8)(Pellet Binder)
Sodium Chloride
Sodium Bicarbonate
Oregano Extract & Aniseed Flavourings
Nutritional Additives
Amino Acids
0.75% Lysine (3.3gm Lysine/ L-Lysine Monohydrochloride Technically Pure (3c322))
0.32% Methionine
0.24% Tryptophan (0.7gm Tryptophan/L-Tryptophan (3c441))
Trace Elements (/kg):
250mg Iron (3b103 Iron (II) Sulphate Monohydrate)
100mg Zinc (3b603 Zinc Oxide)
25mg Manganese (3b502 Manganese (II) Oxide)
12mg Copper (3b405 Copper (II) Sulphate Pentahydrate)
1mg Iodine (3b202 Iodine (I) Calcium Iodate Anhydrous)
280mcg Selenium (3b801 Sodium Selenite & 3b815 L-Selenomethionine)
Vitamins (/kg):
6500iu Vitamin A (3a672a Retinyl Acetate)
3000iu Vitamin D3 (3a671)
105mg Vitamin E (3a700 Alpha Tocopherol)
750mg Betaine (3a925)
20mg Vitamin A pre-cursor (E160a (ii) Beta-Carotene)
12mg Niacin (3a314)
7.5mg Calcium D-Pantothenate (3a841)
2mg Folic Acid (3a316)
1.5mg Vitamin B6 (3a831)
40mcg Vitamin B12 (Cyanocobalamin)
Sensory Additives
Flavour Enhancers (/kg)
8.7mg Premixture of Flavouring Compounds
Technological Additives
Binders & Anti-Caking Agents (/kg)​:
5gms Kieselgur (Diatomaceous Earth) (E551c)
1.2gm Sepiolite (E562)
Zootechnical Additives
Digestibility Enhancers (/kg):
(4a1600) 3-phytase (EC 3.1.3.8) 500FTU/kg produced by Aspergillus Niger (CBS 101.672)
Quality Assurance / Storage Advice & Additional Information
This product is manufactured to Universal Feed Assurance Scheme (UFAS) standard.
This product should be stored in a cool, dry area away from direct sunlight.
Associated Knowledge Base Articles
For more detailed information relating to the benefits of this product, please refer to the following Knowledge Base articles:
Need More Information?
For all general enquiries, technical and feeding support, please telephone: +44 (0)1225 708482 or email: info@gwfnutrition.com