Contains turmeric extract - providing curcumin as a natural and potent antioxidant
A high specification supplement with turmeric for horses designed to support the body's normal defences and help maintain a healthy immune system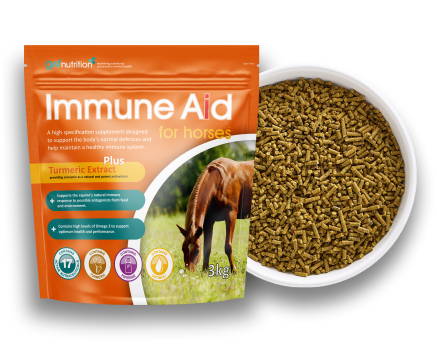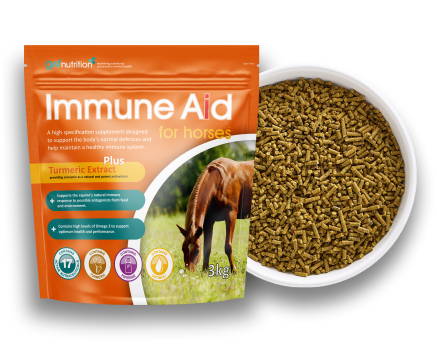 Contains turmeric extract - providing curcumin as a natural and potent antioxidant
A high specification supplement with turmeric for all horses and ponies, designed to support the body's normal defences and help maintain a healthy immune system.
Standard 2-3 working day UK mainland delivery from £6.86 + VAT.

Surcharge for Scottish Highlands, Islands & NI.
What are the Benefits of Feeding Immune Aid for Horses?
Supports the equine's natural immune response to possible antagonists from feed and environment.
Contains curcumin (turmeric extract) and piperine (black pepper extract) as a source of effective antioxidants.
Contains high levels of Omega 3 to support optimum health and performance.
Provides a unique combination of 17 active nutraceuticals.
Contains the Oatinol® Delivery System

™

to maintain a high rate of nutrient absorption.
Wheat gluten free.
A 100% non-GM, soya free formulation.
Manufactured to Universal Feed Assurance Scheme (UFAS) standards as palatable, easy-to-feed 2mm pellets.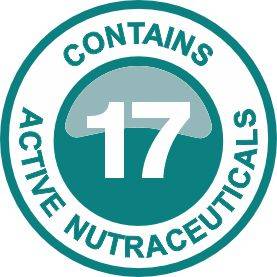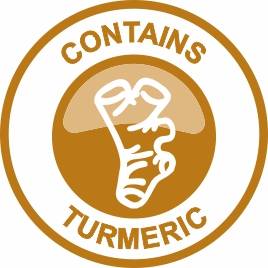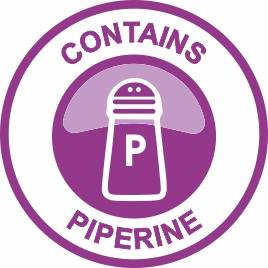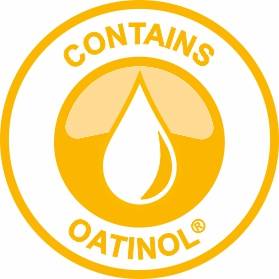 When Should I feed Immune Aid to My Horse?
Natural health manifests itself in the physical appearance of your horse or pony. A sleek coat, bright eyes and clean airways all demonstrate the effectiveness of the equine's immune system.
Immune Aid should be fed to all equines that exhibit signs of a challenged immune system.
Explained - Nutraceuticals & the Oatinol® Delivery System™
Explained - The 13 Active Nutraceuticals in Immune Aid for Horses
Nutraceuticals are products derived from food sources with extra health benefits in addition to their basic nutritional value.
Beta Carotene (Vitamin A precursor)
A safe and effective way to provide the building blocks for vitamin A, which is vital for vision, appetite and growth.
Curcumin
An active ingredient of the spice, turmeric. It is a natural and powerful antioxidant and supports the normal anti-inflammatory action of the body in conjunction with vitamins: C and E and selenium.
​Glutamic Acid​
A natural flavour enhancer and an important nutritional support for natural gut health during times of stress.
​Omega 3 Fatty Acids​
Crucial for maintaining the natural anti-inflammatory action of the body.
Toxin Binders​
A blend of microscopic absorbent compounds that aid the natural expulsion of antagonists found in feed and the environment.
MSM (Methylsulfonylmethane)
Essential for the manufacture of collagen and a source of sulphur, which helps to form cross links with other molecules that maintain the strength and integrity of connective tissues.
Oligosaccharides (Fructo, Galacto & Mannan) (Prebiotic)
Support the immune system by maintaining naturally high levels of macrophage activity to block harmful organisms, being absorbed into the bloodstream.
Piperine Black Pepper Extract​
Piperine Black Pepper Extract is a natural nutritional addition that helps to maintain the absorption of poorly retained active nutraceuticals, i.e. curcumin.
Selenium (inc. Protected)
An important antioxidant that works synergistically with vitamin E.
Vitamin C
Essential for the production of collagen in the body that forms the matrix of connective tissues in mammals.
Vitamin D3​
Crucial for bone development. Also important for the immune system, fertility and the release of insulin.
Vitamin E
A biological antioxidant and essential for healthy reproductive, muscular, circulatory, nervous and immune systems. Has anti-ageing properties.
Yeast Cultures
Help to stabilise the pH, scavenge oxygen and encourage the growth of beneficial bacteria in the digestive tract.
Explained - The 4 Active Nutraceuticals in the Oatinol Delivery System
Nutraceuticals are products derived from food sources with extra health benefits in addition to their basic nutritional value.
Oatinol is a natural high quality oil based concept developed by and unique to GWF Nutrition. When incorporated into the feed it supplies the following four active nutraceuticals to:
Maintain gut cell integrity.
Maintain the lining of the gut.
Support the immune system.
Aid the absorption of active ingredients, vitamins and trace elements.
Galactolipid Natural Emulsifiers
​Galactolipids are a combination of sugar and fat molecules that create the perfect medium for the absorption of active ingredients across the gut wall.
Natural Tocotrienol Antioxidants
​Tocotrienol antioxidants are a natural form of vitamin E. They are 40-60 times more readily available than other forms of vitamin E and help to maintain the integrity of the cells forming the lining of the gut to aid absorption.
Oat Derived Beta Glucans
​Beta Glucans have prebiotic properties that support beneficial bacteria in the gut to promote healthy absorption.
Phospholipids
​Phospholipids have emulsifying properties and have been shown to actively influence nutrient digestibility and absorption.
Daily Feeding Recommendation
Simply mix with your horse or pony's normal feed.​
1 Measure (Included) = 100gm
| | |
| --- | --- |
| Category | Daily Feeding Level |
| | |
Additional Product Information
Product Information & Analysis
WH040423-559
Form & Pack Size(s)
Manufactured as:
Very Digestible 2mm Pellets
Available in:
3kg Minimum Waste Pouch​es
Analytical Constituents
15% Crude Protein

8% Crude Fat

14% Crude Fibre

10% Crude Ash

19.5% Starch

5.5% Sugar

2% Calcium

0.5% Phosphorus

0.1% Sodium​

0.2% Magnesium

4.2% Omega 3 Fatty Acids
Composition
Black Oats

Hemp Seed Meal

Micronized (Sugar) Beet Pulp

Calcium Carbonate

3% Oligosaccharides (Fructo)

Cane (Sugar) Molasses

Seaweed Meal

Vegetable Oils & Fats (inc. Oatinol)

Yeast Cell Wall

0.5% Turmeric Extract

Calcium Sulphate Anhydrous (Pellet Binder)

0.25% MSM (Methylsulfonylmethane)
Nutritional Additives
Natural Products - Botanically Defined (/kg):
5gm Curcuma Longa (2b163-ex)(Turmeric Extract)

100mg Pepper Oleoresin / Extract Black
Trace Elements (/kg):
1mg Selenium (3b815 L-Selenomethionine)
Vitamins (/kg):
20000iu Vitamin D3 (3a671)

1015mg Vitamin E (3a700 Alpha Tocopherol)

705mg Vitamin C (3a300 Ascorbic Acid)

60mg Vitamin A precursor (3a160(a) Beta-Carotene)
Sensory Additives
Flavour Enhancers (/kg):
1.2gm L-Glutamic Acid (2b620)

11.2mg Premixture of Flavouring Compounds
Technological Additives
Binders & Anti-Caking Agents (/kg)​:
2.9gm Sepiolite (E562)

430mg Bentonite Montmorillonite (1m558)
Zootechnical Additives
Digestibility Enhancers (/kg):
3e10 CFU 4b1702 Saccharomyces Cerevisiae CNCM I-4407 (Actisaf Sc47)
Quality Assurance / Storage Advice & Additional Information
This product is manufactured to Universal Feed Assurance Scheme (UFAS) standard.
This product should be stored in a cool, dry area away from direct sunlight.

Download

product Images.​
Associated Knowledge Base Articles
For more detailed information relating to the benefits of this product, please refer to the following Knowledge Base articles:
Need More Information?
For all general enquiries, technical and feeding support, please telephone: +44 (0)1225 708482 or email: info@gwfnutrition.com