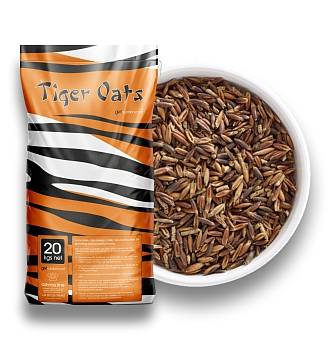 Contains 5 active nutraceuticals, including the Oatinol® Delivery System™
The complete high energy, low starch feed for all hard working horses and ponies.
Contains 5 active nutraceuticals, including the Oatinol® Delivery System™
A complete high energy, lower starch feed for all hard working and competition horses and ponies.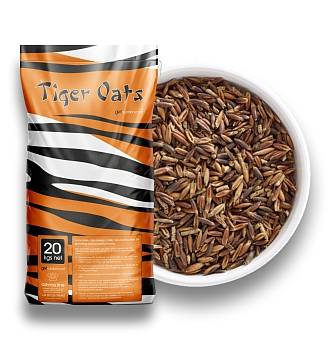 Standard 2-3 working day UK mainland delivery from £7.15 + VAT.

Surcharge for Scottish Highlands, Islands & NI.

Please contact us to discuss pricing for half and full pallet orders. Mix and match from our Alpaca and Horse & Pony ranges.
What are the Benefits of Feeding Tiger Oats?
Recommended for all hard working and competition horses and ponies.
Manufactured using traditional high quality lean horse oats.
Provides a lower starch, high oil, high fibre, consistent 13MJ/kg energy feed.
Includes a 3mm vitamin and mineral pellet to provide important electrolytes for peak performance.
Contains concentrated yeast derived oligosaccharides to support a healthy hindgut.
Provides a unique combination of 5 active nutraceuticals.
Contains the Oatinol® Delivery System

™

to maintain a high rate of nutrient absorption.
Wheat gluten free.

A 100% non-GM, soya free formulation.

Recommended to be fed with Equilibra and Fibregest as part of the GWF Nutrition Equine Feeding Guide.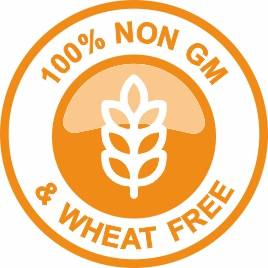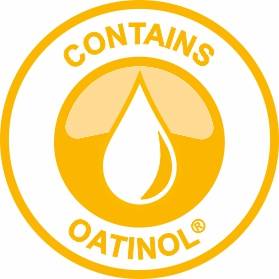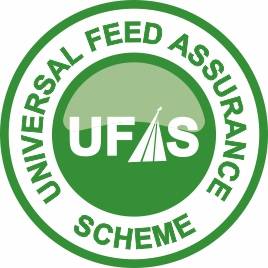 Why Should I Feed Tiger Oats to My Horse or Pony?
Tiger Oats should be fed when the level of activity of the horse or pony is increased.
Explained - Nutraceuticals & the Oatinol® Delivery System™
Explained - The 1 Active Nutraceutical in Tiger Oats for Horses
Nutraceuticals are products derived from food sources with extra health benefits in addition to their basic nutritional value.
Concentrated Yeast Derived Oligosaccharides
Oligosaccharides provide a feed source for beneficial bacteria in the hindgut and support the natural expulsion of antagonists found in feed and the environment
Explained - The 4 Active Nutraceuticals in the Oatinol Delivery System
Nutraceuticals are products derived from food sources with extra health benefits in addition to their basic nutritional value.
Oatinol is a natural high quality oil based concept developed by and unique to GWF Nutrition. When incorporated into the feed it supplies the following four active nutraceuticals to:
Maintain gut cell integrity.
Maintain the lining of the gut.
Support the immune system.
Aid the absorption of active ingredients, vitamins and trace elements.
Galactolipid Natural Emulsifiers
​Galactolipids are a combination of sugar and fat molecules that create the perfect medium for the absorption of active ingredients across the gut wall.
Natural Tocotrienol Antioxidants
​Tocotrienol antioxidants are a natural form of vitamin E. They are 40-60 times more readily available than other forms of vitamin E and help to maintain the integrity of the cells forming the lining of the gut to aid absorption.
Oat Derived Beta Glucans
​Beta Glucans have prebiotic properties that support beneficial bacteria in the gut to promote healthy absorption.
Phospholipids
​Phospholipids have emulsifying properties and have been shown to actively influence nutrient digestibility and absorption.
Daily Feeding Recommendation
The feeding level below is provided as a guide. In all cases, introduce slowly and feed according to the workload of the horse or pony.
Split the total daily quantity by the number of daily feeds.
Simply mix with your horse or pony's normal feed.
| | |
| --- | --- |
| Category | Daily Feeding Level |
| All Horses & Ponies in Medium / Hard and Very Hard Work | |
Additional Product Information
Product Information & Analysis
WH250723-542
Form & Pack Size(s)
Manufactured as:
Available in:
Analytical Constituents
12% Crude Protein

6% Crude Fat

9.5% Crude Fibre

4.5% Crude Ash

33% Starch

2% Sugar

0.7% Calcium

0.13% Magnesium

0.4% Phosphorus

0.3% Sodium

0.5% Omega 3 Fatty Acids
Composition
Black Oats

Hemp Seed Meal

Micronized (Sugar) Beet Pulp

Calcium Carbonate

Cane (Sugar) Molasses

Sodium Chloride

Vegetable Oils & Fats (inc. Oatinol)

Calcium Sulphate Anhydrous (Pellet Binder)

Monocalcium Phosphate

Oligosaccharides
Nutritional Additives
Vitamins (/kg):
8800iu Vitamin A (3a672a Retinyl Acetate)

1000iu Vitamin D3 (3a671)
102mg Vitamin E (3a700)
17.5mg Vitamin C (3a300)
10mg Niacin (3a314)
5.5mg Calcium D-Pantothenate (3a841)
5mg Folic acid (3a316)
4mg L-Carnitine (3a910)
4mg Vitamin B6 (3a831)
2mg Vitamin K3 (3a710)
50mcg Vitamin B12 (3a835; Cyanocobalamin)
40mcg Biotin (3a880)
Trace Elements (/kg):
23mg Zinc (3b603 Zinc Oxide)

10mg Manganese (3b502 Manganese (II) Oxide)

10mg Iron (3b103 Iron (II) Sulphate Monohydrate)

10mg Copper (3b405 Copper (II) Sulphate Pentahydrate)

400mcg Iodine (3b202 Iodine (I) Calcium Iodate Anhydrous)

210mcg Selenium (3b815 L-Selenomethionine & 3b801 Sodium Selenite)
Sensory Additives
Flavour Enhancers (/kg):
80mg Premixture of Flavouring Compounds
Technological Additives
Binders & Anti-Caking Agents (/kg):
Quality Assurance / Storage Advice & Additional Information
This product is manufactured to Universal Feed Assurance Scheme (UFAS) standard.

This product should be stored in a cool, dry area away from direct sunlight.

Download

product Images.​
Associated Knowledge Base Articles
For more detailed information relating to the benefits of this product, please refer to the following Knowledge Base articles:
Frequently Asked Questions (FAQ's)
What Makes Tiger Oats Unique?
Like most of our products, Tiger Oats has been formulated with our our proprietary Oatinol Delivery System™. This allows for a higher bio-availability of important nutrients within the feed.
Oatinol™ allows for the improved absorption of nutrients by blocking pathogens and supporting the immune system, maintaining cell integrity and the gut lining and finally aiding the absorption of key ingredients from minerals and vitamins to high value actives.
Who Should Tiger Oats be Fed to?
Performance, medium and hard working horses. Where starch is an issue, care must be exercised with existing feed rates, perhaps by reducing to 50% of stated feeding values.
We do use black oat starch which release slower to feed oats, and much slower than wheat, maize or barley which other manufacturers may use. We also avoid wheatfeed, which has a habit of causing secondary fermentation in the lower intestinal tract and can increase the chances of ulcers.
Can Tiger Oats be Fed With Balancers?
Yes absolutely, it is specifically designed to be fed alongside our own balancer Equilibra and can also be fed alongside our simple vitamin and mineral supplement OneCup.
Can Tiger Oats be Fed With Any of Your Supplements?
Yes of course. The main thing to be mindful of is how much you feed of Tiger Oats themselves.
What Sizes Do You Offer for This Product?
Tiger Oats comes in a 20kg bag.
Can I Try a Sample of Your Supplement Before I Buy?
Where Can I Buy Tiger Oats?
Our feeds and supplements are available at most good pet shops and country stores around the UK. To find a local stockist in your area search using our Stockist Locator. If your local feed store is not currently stocking Tiger Oats please let us know and we may be able to help. Alternatively our products are also available from a variety of online retailers.
Can You Feed Too Much Tiger Oats?
Yes definitely. Caution should always be exercised when using Tiger Oats. If you have any questions please speak with an equine nutritionist or to our nutrition team. Starch should always be handled with care when it comes to horses and ponies.
What is the Energy Level/ DE of Tiger Oats?
Does Tiger Oats Contain a High Level of Starch?
The starch in Tiger Oats comes from black oats. Oat starch is more completely digested than wheat, barley and maize. This means that less reaches the hindgut, so it is less likely to create pro-laminitic issues. Lower starch content but higher digestibility gives more energy.
Does Tiger Oats Contain Wheat?
No absolutely not. It does contain horse (black) oats, which have less starch than feed oats. They also provide slower release energy when compared with feeds like wheat or maize, which are much higher in starch and can be dangerous for an equine.
Unfortunately a lot of the balancers on the market do use wheatfeed (middlings) - this is a wheat by-product which can cause allergies.
Yes Tiger Oats is completely free from GM ingredients.
Why Does Tiger Oats Contain Cane Molasses When Sugar is Not Good for my Horse?
You are correct sugar fed in significant amounts can be very detrimental this is particularly seen in the spring when grass sugars are at their highest, as a result this can lead to laminitis or colic symptoms. We only use a tiny percentage of cane molasses within Tiger Oats and this is to aid physical pellet quality and consistency. 40% of this 1% molasses is water anyway. Therefore the sugar intake from 500gm of Tiger Oats per day is a very small amount. 1kg of average hay will provide 100grams of sugar as a comparison!
Basically there is sugar in everything in one form or another so the key factor is the quantity being fed. Little and often is always the best way as lower levels of sugar entering the bloodstream over a longer period is much easier for insulin resistant equines to deal with. Sugars and starch are also what provide oomph in Tiger Oats so it's actually beneficial here.
Is Tiger Oats Linseed Free?
Yes Tiger Oats are linseed free, along with all our supplements.
Need More Information?
For all general enquiries, technical and feeding support, please telephone: +44 (0)1225 708482 or email: info@gwfnutrition.com