Contains 20 active nutraceuticals, including the Oatinol® Delivery System™
A high specification complementary feed for mother and newborn alpacas and llamas; designed to maximise the growth and development of the newborn from birth to post weaning.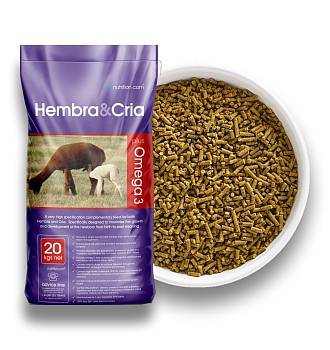 ---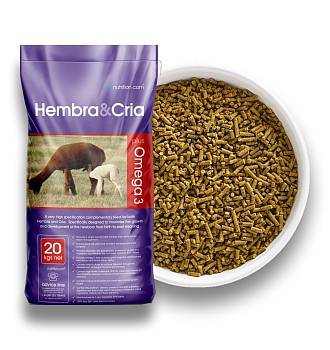 Contains 20 active nutraceuticals, including the Oatinol® Delivery System™
A high specification complementary feed for mother and newborn alpacas and llamas; designed to maximise the growth and development of the newborn from birth to post weaning.
---
Standard 1-3 working day UK mainland delivery £4.32 + VAT

Priority delivery available.

Surcharge for Scottish Highlands.
What are the Benefits of Feeding Hembra & Cria?
Designed to be fed as a single feed to both lactating mothers and young cria from around 2 weeks of age.
Promotes good milk yield and excellent development of the progeny.
Provides digestible milk and globular proteins for growth and metabolic requirements like hormones, enzymes and plasma.
Contains nucleotides for supporting good vital organ development and immunity.
Contains yeast cultures to aid fibre digestion through the development of foregut microbial fermentation.
Contains high levels of essential vitamins, especially Vitamin D3 and digestible sources of calcium, phosphorus and trace elements.
Contains natural antioxidants for overall short and long term health.
Provides a unique combination of 20 active nutraceuticals.
Contains the Oatinol® Delivery System

™

to maintain a high rate of nutrient absorption.
Wheat gluten free.
A 100% non-GM, soya free formulation.
Manufactured to Universal Feed Assurance Scheme (UFAS) standards as palatable, easy-to-feed 2mm pellets.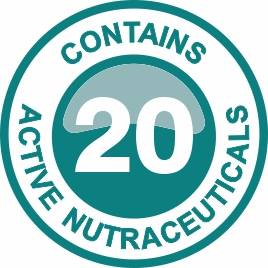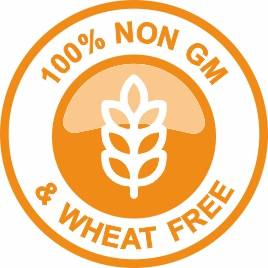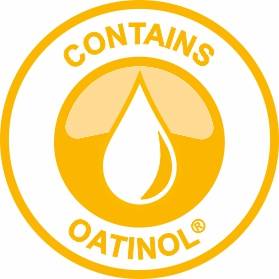 When should I feed Hembra & Cria to My Alpaca or Llama?
Hembra & Cria should be fed to all lactating mother alpacas and llamas and young cria from around 2 weeks of age.
Explained - Nutraceuticals & the Oatinol® Delivery System™
Explained - The 16 Active Nutraceuticals in Hembra & Cria
Nutraceuticals are products derived from food sources with extra health benefits in addition to their basic nutritional value.
Chelated Minerals
Chelated minerals provide bio-available forms of essential vitamins: copper, manganese and zinc, which are required by important metabolic processes in the young developing cria.
Digestible Milk Proteins
Sources of readily digestible milk proteins that provide key amino acids for supporting the growth of all tissues with high protein contents, namely: muscles, ligaments, tendons, hair and hooves.
Glutamic Acid
Glutamic Acid is a natural flavour enhancer and an important nutritional support for gut health during times of stress.
MSM (Methylsulfonylmethane)
MSM is a source of sulphur, which helps to form cross links with other molecules that maintain the strength and integrity of connective tissues. It is also essential for the manufacture of collagen.
Microscopic Toxin Binder
A blend of microscopic absorbent compounds that aid the natural expulsion of antagonists found in feed and the environment.
Natural Buffering and Yeast Cultures
Natural buffering material and yeast cultures help to stabilise the pH in the foregut and encourage the development of beneficial fibre digesting bacteria. This is important when feeding cereal based feeds as starch is converted into lactic acid, which can increase acidity and create an unfavourable environment for the fibre digesting bacteria.
Nucleotides
Cell division is the basis of growth and development and involves the splitting of RNA and DNA. Nucleotides provide essential structured units for the production of RNA and DNA in cells and are very important to sustain normal healthy development.
Oligosaccharides
Oligosaccharides from yeast cell wall and concentrated oat bran sources that help support natural expulsion of antagonists in the digestive tract and maintain a high level of natural immunity.
Omega 3 Fatty Acids
Omega 3 fatty acids provide a daily source of essential fat components. Omega 3 is widely recognised to be an anti-inflammatory and balances the pro-inflammatory Omega 6 in the correct ratio. Omega 3's are also found in large concentrations in spermatozoa and are essential for maintaining cell wall integrity and preventing moisture/oil loss from the skin. Healthy skin means high quality fibre production.
Prebiotics
Prebiotics provide specific nourishment for friendly, fibre digesting bacteria to maintain good digestion and release of nutrients for growth, breeding and performance
Vitamin C​
Vitamin C is essential for the production of collagen in the body that forms the matrix of connective tissues in mammals. It directly affects tissue growth and development and the body's immune system.
Vitamin D3, Phosphorus, Calcium, Magnesium and Yeast Cultures
Contains high levels of vitamin D3, available phosphorus and calcium in a very palatable form. All three are crucial for healthy skeletal development and additional yeast cultures are added to significantly improve the digestibility of phosphorus from normal feed.
Explained - The 4 Active Nutraceuticals in the Oatinol Delivery System
Nutraceuticals are products derived from food sources with extra health benefits in addition to their basic nutritional value.
Oatinol is a natural high quality oil based concept developed by and unique to GWF Nutrition. When incorporated into the feed it supplies the following four active nutraceuticals to:
Maintain gut cell integrity.
Maintain the lining of the gut.
Support the immune system.
Aid the absorption of active ingredients, vitamins and trace elements.
Galactolipid Natural Emulsifiers
​Galactolipids are a combination of sugar and fat molecules that create the perfect medium for the absorption of active ingredients across the gut wall.
Natural Tocotrienol Antioxidants
​Tocotrienol antioxidants are a natural form of vitamin E. They are 40-60 times more readily available than other forms of vitamin E and help to maintain the integrity of the cells forming the lining of the gut to aid absorption.
Oat Derived Beta Glucans
​Beta Glucans have prebiotic properties that support beneficial bacteria in the gut to promote healthy absorption.
Phospholipids
​Phospholipids have emulsifying properties and have been shown to actively influence nutrient digestibility and absorption.
Daily Feeding Recommendation
Hembra
Introduce 12 weeks before expected birth date and feed right through lactation.
Cria
Crias from around 2 weeks of age will copy the eating behaviour of their mother and start to nibble Hembra & Cria. Increase with appetite up to 50gm per day.
General Maintenance Level: 100gm / Day
General Maintenance Level: 50gm / Day
Additional Product Information
Product Information & Analysis
Form & Pack Size(s)
Manufactured as:
Very Digestible 2mm Pellets
Available in:
Analytical Constituents
15% Crude Protein
8% Crude Fat
11% Crude Fibre
12% Crude Ash
13% Starch
9% Sugar
3% Calcium
1% Phosphorus
0.4% Sodium
0.5% Magnesium
Composition
Black Oats
Hemp Seed Meal
Micronized (Sugar) Beet Pulp
Whey Protein Concentrate
Micronized Naked Oats
Cane (Sugar) Molasses
Vitamin & Mineral Premix
Maize Gluten (Prairie) Meal
Calcium Carbonate
Dicalcium Phosphate
3% Vegetable Oils & Fats (Oatinol)
1% Acid-Buf
0.2% Nucleotides
0.2% Microscopic Binder
Technological Additives
Binders/Anti-Caking Agents (/kg):
2gm 1m558i Bentonite Montmorillonite
Nutritional Additives
Vitamins (/kg):
70000iu Vitamin A (3a672a Retinyl Acetate)
20000iu Vitamin D3 (3a671 Cholecalciferol)
900mg Vitamin E (3a700 Alpha Tocopherol)
50mg Vitamin B1 (3a820)
6mg Vitamin B2 (3a826)
30mg Vitamin B6 (3a831)
300mcg Vitamin B12 (Cyanocobalamin)
20mg Vitamin K (3a710)
500mcg Biotin (3a880)
30mg Folic acid (3a316)
80mg Nicotinic Acid (3a314)
50mg Pantothenic Acid (3a841)
Trace Elements (/kg):
200mg Iron (Iron (II) Sulphate Monohydrate 3b103)
4mg Iodine (Iodine (I) Calcium Iodate Anhydrous 3b202)
200mg Copper (Copper (II) Sulphate Pentahydrate 3b405 & 3b409 Dicopper Chloride Trihydroxide)
220mg Manganese (Manganese (II) Oxide 3b502 & 3b507 Dimanganous Chloride Trihydroxide)
350mg Zinc (Zinc Oxide 3b603 & 3b609 Zinc Chloride Hydroxide Monohydrate)
0.5mg Selenium (Sodium Selenite 3b8018 Inorganic)
2.5mg Selenium (3b815 L-Selenomethionine)
Flavour Enhancers (/kg):
10gm L-Glutamic acid (2b620)
Zootechnical Additives
Gut Flora Stabilisers (/kg):
1e10 CFU 4b1702 Saccharomyces Cerevisiae CNCM I-4407 (Actisaf Sc47)
Quality Assurance / Storage Advice & Additional Information
This product is manufactured to Universal Feed Assurance Scheme (UFAS) standard.
This product should be stored in a cool, dry area away from direct sunlight.

Download

product Images.​
Associated Knowledge Base Articles
For more detailed information relating to the benefits of this product, please refer to the following Knowledge Base articles:
The Oatinol Delivery System
Need More Information?
For all general enquiries, technical and feeding support, please telephone: +44 (0)1225 708482 or email: info@gwfnutrition.com