Walking With Alpacas - 5 of the Best
Contains 10 active nutraceuticals, including the Oatinol™ Delivery System
A high specification complementary feed supplement for all camelids including alpacas and llamas; designed to provide the correct nutritional balance to maintain healthy digestion and productivity from natural forage/fibre based diets.

If you've never tried alpaca walking it's fast becoming a popular way to enjoy the British countryside at its best. Alpacas are beautiful, calm creatures and enjoying a trek alongside one of these fluffy companions is something between a therapeutic experience and a hands-on animal adventure. The alpaca pace in particular is said to be "soothing"!
If you fancy taking a leisurely stroll with an alpaca near you there's certainly no shortage of farms with something to offer. We've picked out some of our favourites from the many alpaca farms around the country that we know through our nutrition work.
Location: Northumberland, Heddon-on-the-Wall, Newcastle upon Tyne.
With over 300 alpacas husband and wife team Debbie and Paul Rippon run walk 'n' talks across their beautiful farm 10 miles west of Newcastle upon Tyne. The experience lasts an hour with a 1-mile gentle walk with the alpacas.
The minimum age for alpaca walking is 10 years old and everyone gets their own alpaca for £30 per head. They do offer discounts if you decide to adopt an alpaca and for holiday cottage guests.
Visits are by appointment only and private tours are also available.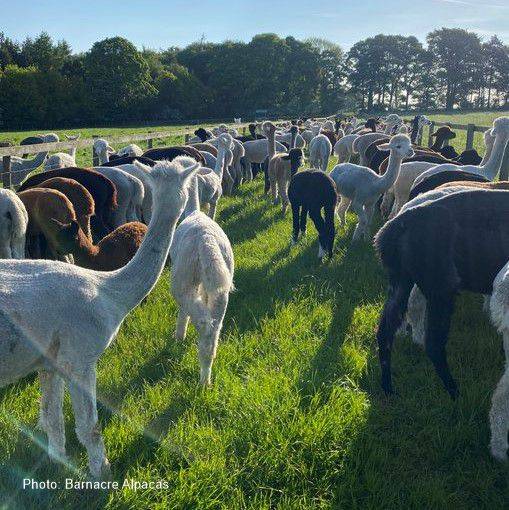 Location; Based in Kent and East Sussex, Romney Marsh.
Alpaca Annie have just over 80 alpacas based at Haguelands Farm based in Romney Marsh, surrounded by beautiful countryside views. The alpaca farm provides the perfect backdrop for a serene day out walking with alpacas or experiencing a meet & greet. The alpaca trekking experience lasts around 2 hours and also include a feeding session and photo opportunities for £25 per person. Please be aware visitors must be at least 14 to walk an alpaca alone.
Alpaca Annie also have a lovely shop that sells alpaca socks, slippers and gifting as well as food items.
For more information visit the website or look for @alpacaannie on social media.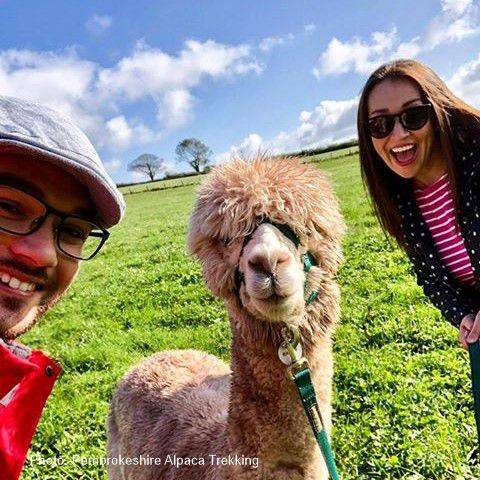 Location: In the heart of Pembrokeshire, West Wales. 
Established in 2019 on a small family farm Pembrokeshire Alpacas offer a unique relaxing activity where families can walk, feed and pet the alpacas. They also offer meet and greet experiences and bespoke group activities for larger events such as hen parties, family events, team building or just get togethers.
They are open all year round. Visit their website for availability and bookings.
Location: Based in Sheffield, Ringinglow which borders the Peak National Park.
The Mayfield Alpacas Animal Park, which extends over 45 acres in the lovely Mayfield Valley, is a well-liked destination for visitors of all ages. It is home to 28 alpacas and 1 llama, as well as a host of other animals.
Mayfield Animal Park provides events and parties for children and adults that include hand-feeding alpacas in and alpaca trekking. The trek lasts for 40 minutes and cost £25 per person.
Opening times: 10am - 4pm every day apart from Christmas day and Boxing Day. For more information visit their website.
Location: Based in Ormskirk, West Lancashire, North West England.
Set on the family farm in West Lancashire, Natterjack Alpacas offers a choice of two treks for small groups for a fun and educational experience.
Their 60-minute alpaca experience includes a shorter trek, and is suitable for all members of the family, including those with little legs. They also offer an over 16's only 90-minute trek along their lovely private track in open countryside as well as a more private Alpaca Experience for adults only. To book visit their website.
Alpaca Walking and Animal Welfare
There are hundreds of options to choose from if you're looking for a day out with alpacas. However, like us you'll want to be sure that the animals are well cared for and that animal welfare is not an issue.
Have a look for membership of a professional association, like the British Alpaca Society (BAS) or ABWAK  As well as educating members on welfare issues BAS also operates a Trekking Code of Practice to ensure certain standards are met.
Finally, looking through some impartial customer reviews or even asking some questions before you visit will tell you a lot about the farm and how they operate.